Introduction
Do you take most of your time trying to open multiple orders at once? Is it an easy task for you to manage multiple trading positions? How do you close multiple open positions in your trading account at once? Are you missing the perfect trade entry because of this? Look no further, If you are facing problems with managing a lot of trades at the same time because I have come up with a solution. The Trade Aid utility tool for MT5 is a trading system programmed to help traders to open, manage and close orders. Trading must be comfortable for every trader.
This utility consists of 8 input parameters and 10 buttons with different colors. A simple click on one of the buttons is enough to perform the intended action within seconds. The chart buttons are user-friendly and cannot disturb your analysis.
input Parameters
The input parameters only affect the current chart/symbol.
(1)EntryLimit
This parameter is the maximum number of open orders per account. This removes any chance of making the mistake of opening more orders than expected(clicking the utility buy/sell button more times than anticipated by mistake has no effect). Thus, overtrading is avoided and good management is promoted.
(2)AutoLotSize
It is a true or false parameter. If true, an automatic lot size is used. There is no need to manually calculate the best lot size for your account balance. The best possible lot size with the least risk is already calculated for you by the utility. The value for the Auto Lot Size can be visible on the chart comment. This utility version has an auto lot size function up to an account balance of 100000 USD or less. Upcoming updates will increase the balance limit for this AutoLotSize.
Please note that this option is only for traders who use USD as a base currency for their trading accounts. Otherwise, if your account balance is greater than 100000 USD or if your account base currency is not USD, do not use the AutoLotSize function.
( The auto lot size measurements are at the end of this article).
(3)ManualLotSize
Otherwise, if the AutoLotSize is false, this parameter is the volume at which the trader wants his position to be opened. The default lot size is 0.01.
(4)StopLossInPoints
The price level at which a trader wishes to exit the trade when wrong. 
(5)TakeProfitInPoints
The price level at which a trader wants to close his order with profits.
Please Note That 100 points for most currency pairs are equivalent to 10 pips.
Note!!!
You cannot open any trade without setting the SL and TP.
(6)AutoBreakEvenTrigger
It is a true or false parameter. If true, when the profits reach the set price target, the stop loss for the open trade will automatically move to breakeven. If false, the automatic breakeven is disabled.
Be advised that if you do not want to set any points for the AutoBreakEven to be triggered, leave the AutoBreakEvenTrigger as False at all times.
(7)BreakEvenTriggerInPoints
This is the level of Points at which the stop loss is moved to breakeven. For Example, if a trader puts 10000 as the BreakEvenTriggerInPoints 
when trading BTCUSD as the current symbol. if the trade is a buy, it means that when the price moves up by 10000 points, the Stop loss will move
to breakeven while the take profit remains the same. This makes that position to become risk-free.
(8)PartialCloseVolume
Suitable for traders who open a single trade with a large volume. This parameter is the potion of volume a trader desires to close from a single open position. 
Buttons
3 of the buttons labeled in black affect the current chart only, while 7 of the Buttons labeled in white affect all orders in the entire trading account, including the current chart orders.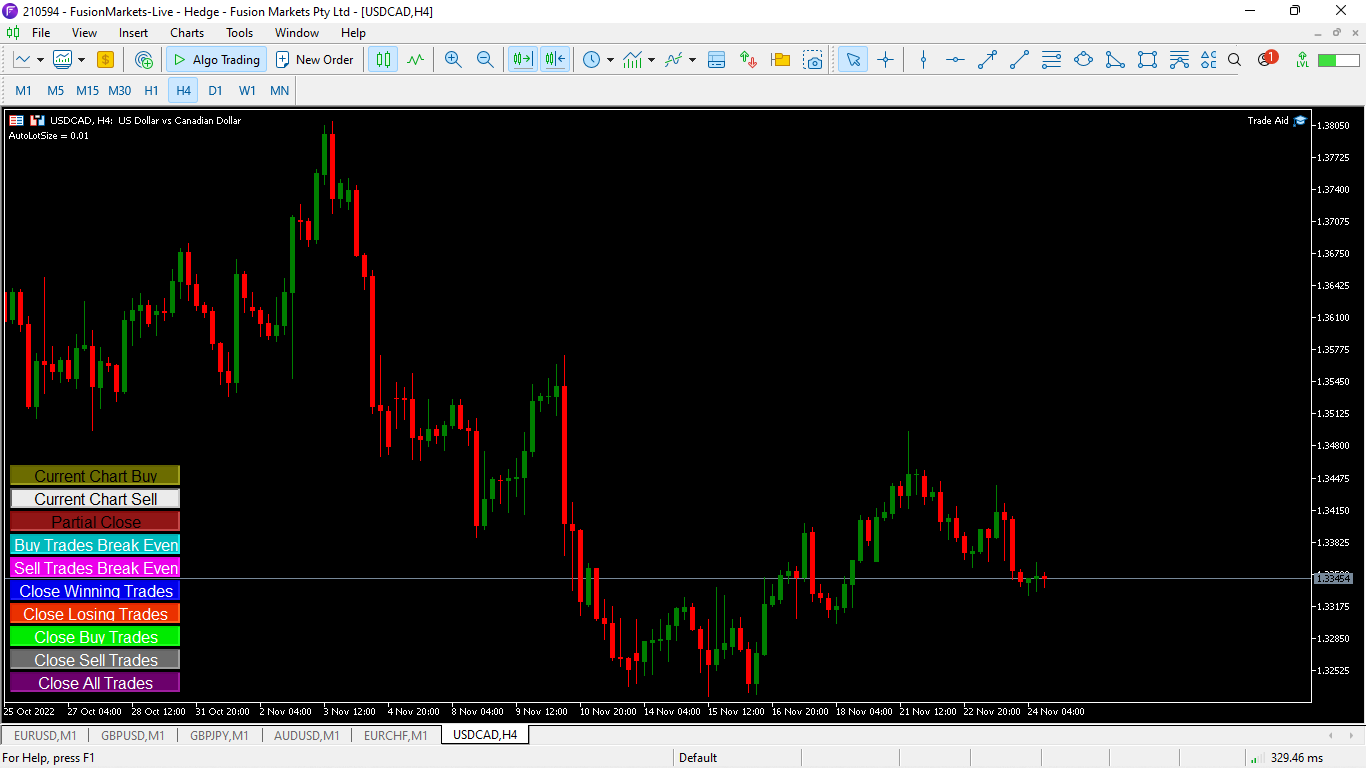 1)Current Chart Buy (Olive button)
If the StopLossInPoints and the TakeProfitInPoints are set, buy orders are opened by clicking the buy button. Each click per order. You can open multiple trades as long as the number of open orders is below the Entry limit. There is no need to manually put the SL and TP  since all trades will be opened with the same input parameters. This button is only limited to the current chart. 
2)Current Chart Sell (white button)
Same as the Current Chart Buy, only that this button is for sell orders.
3)Partial Close Current Chart (Brown button)
Limited to the current chart only. When this button is clicked, the volume set as the input PartialCloseVolume parameter is closed and secured.
4)Buy Trades Break-even (Dark Turquoise button)
Affects all buy trades in the trading account. It moves the stop losses to break even.
5)Sell Trades Break-even (Magenta button)
Moves the stop losses to break even for all open sell positions.  
6)Close Winning Trades (Blue button)
Closes and Secures all profiting positions with a single click.
7)Close Losing Trades (Orange Red button)
Closes all losing positions
8)Close Buy Trades (Lime button)
close orders by type. Closes all buy positions.
9)Close Sell Trades (Gray button)
Closes all sell positions.
10)Close all trades (Purple button)
Closes all positions with a click. Closes all open orders within seconds. 
Recommendation////// I advise you to use black as the background chart color when using this utility, for the buttons to be clearly visible. 
This utility can work across all markets.
Otherwise, follow the YouTube link below to watch a video of how this utility works.
https://www.youtube.com/watch?v=LVaizjhiayM
To test this utility on a demo account, follow the link below and download it.
Trade Aid Demo Version MT5 
Trade Aid Demo Version User Manual
http://lnkiy.in/TradeAidDemoUserManual
To use this utility on a real account with a lifetime access, purchase the product on the link below.
https://www.mql5.com/en/market/product/89873?source=Site+Market+MT5+Search+Rating006%3atrade+aid
This utility is only sold on the MLQ5 Market. 
After purchasing the Trade Aid Utility, contact me and will sent you the Trade Aid User Manual. I will also be glad to share with you my Magic Trend Indicator for free.
Magic Trend Overview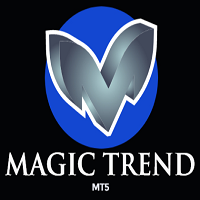 This MT5 indicator is a Moving Average with 3 signal colors. The 3 input parameters on this Indicator gives you a chance to set any Moving Average of choice. A combination of 2 different exponential moving averages, relative strength index, commodity channel index, and William's percent range provide the signals.
White color = Null/No/Exit Signal
Green color = Buy Signal
Red color = Sell Signal
Point To Note: Confirm the color change only after the current candle closes to avoid false signals.
Point To Note: Using lower timeframes causes a lot of price fluctuations.
Point To Note: This indicator works across all markets and on any timeframe.
Recommended Timeframes: 1 hour (for directional bias), 5 mins (scalping entry and exit confirmations)
Recommended Symbols: Nas100, US500, US30, Gold, BTCUSD, and all GBP Currency pairs.
https://www.youtube.com/watch?v=qnLvNv76lxs
Trade Aid Utility Auto Lot Size Measurements.
Values in USD.
If (balance<200) {lotsize= 0.01;}
If  (200<=balance<300) {lotsize= 0.02;}
If (300<=balance<400) {lotsize= 0.03;}
If (400<=balance<500) {lotsize= 0.04;}
If (500<=balance<600) {lotsize= 0.05;}
If (600<=balance<700) {lotsize= 0.06;}
If (700<=balance<800) {lotsize= 0.07;}
If (800<=balance<900) {lotsize= 0.08;}
If (900<=balance<1000) {lotsize= 0.09;}
If (1000<=balance<1100) {lotsize= 0.10;}
If (1100<=balance<1200) {lotsize= 0.11;}
If (1200<=balance<1300) {lotsize= 0.12;}
If (1300<=balance<1400) {lotsize= 0.13;}
If (1400<=balance<1500) {lotsize= 0.14;}
If (1500<=balance<1600) {lotsize= 0.15;}
If (1600<=balance<1700) {lotsize= 0.16;}
If (1700<=balance<1800) {lotsize= 0.17;}
If (1800<=balance<1900) {lotsize= 0.18;}
If (1900<=balance<2000) {lotsize= 0.19;}
If (2000<=balance<2100) {lotsize= 0.20;}
If (2100<=balance<2200) {lotsize= 0.21;}
If (2200<=balance<2300) {lotsize= 0.22;}
If (2300<=balance<2400) {lotsize= 0.23;}
If (2400<=balance<2500) {lotsize= 0.24;}
If (2500<=balance<2600) {lotsize= 0.25;}
If (2600<=balance<2700) {lotsize= 0.26;}
If (2700<=balance<2800) {lotsize= 0.27;}
If (2800<=balance<2900) {lotsize= 0.28;}
If (2900<=balance<3000) {lotsize= 0.29;}
If (3000<=balance<3100) {lotsize= 0.30;}
If (3100<=balance<3200) {lotsize= 0.31;}
If (3200<=balance<3300) {lotsize= 0.32;}
If (3300<=balance<3400) {lotsize= 0.33;}
If (3400<=balance<3500) {lotsize= 0.34;}
If (3500<=balance<3600) {lotsize= 0.35;}
If (3600<=balance<3700) {lotsize= 0.36;}
If (3700<=balance<3800) {lotsize= 0.37;}
If (3800<=balance<3900) {lotsize= 0.38;}
If (3900<=balance<4000) {lotsize= 0.39;}
If (4000<=balance<4100) {lotsize= 0.40;}
If (4100<=balance<4200) {lotsize= 0.41;}
If (4200<=balance<4300) {lotsize= 0.42;}
If (4300<=balance<4400) {lotsize= 0.43;}
If (4400<=balance<4500) {lotsize= 0.44;}
If (4500<=balance<4600) {lotsize= 0.45;}
If (4600<=balance<4700) {lotsize= 0.46;}
If (4700<=balance<4800) {lotsize= 0.47;}
If (4800<=balance<4900) {lotsize= 0.48;}
If (4900<=balance<5000) {lotsize= 0.49;}
If (5000<=balance<5100) {lotsize= 0.50;}
If (5100<=balance<5200) {lotsize= 0.51;}
If (5200<=balance<5300) {lotsize= 0.52;}
If (5300<=balance<5400) {lotsize= 0.53;}
If (5400<=balance<5500) {lotsize= 0.54;}
If (5500<=balance<5600) {lotsize= 0.55;}
If (5600<=balance<5700) {lotsize= 0.56;}
If (5700<=balance<5800) {lotsize= 0.57;}
If (5800<=balance<5900) {lotsize= 0.58;}
If (5900<=balance<6000) {lotsize= 0.59;}
If (6000<=balance<6100) {lotsize= 0.60;}
If (6100<=balance<6200) {lotsize= 0.61;}
If (6200<=balance<6300) {lotsize= 0.62;}
If (6300<=balance<6400) {lotsize= 0.63;}
If (6400<=balance<6500) {lotsize= 0.64;}
If (6500<=balance<6600) {lotsize= 0.65;}
If (6600<=balance<6700) {lotsize= 0.66;}
If (6700<=balance<6800) {lotsize= 0.67;}
If (6800<=balance<6900) {lotsize= 0.68;}
If (6900<=balance<7000) {lotsize= 0.69;}
If (7000<=balance<7100) {lotsize= 0.70;}
If (7100<=balance<7200) {lotsize= 0.71;}
If (7200<=balance<7300) {lotsize= 0.72;}
If (7300<=balance<7400) {lotsize= 0.73;}
If (7400<=balance<7500) {lotsize= 0.74;}
If (7500<=balance<7600) {lotsize= 0.75;}
If (7600<=balance<7700) {lotsize= 0.76;}
If (7700<=balance<7800) {lotsize= 0.77;}
If (7800<=balance<7900) {lotsize= 0.78;}
If (7900<=balance<8000) {lotsize= 0.79;}
If (8000<=balance<8100) {lotsize= 0.80;}
If (8100<=balance<8200) {lotsize= 0.81;}
If (8200<=balance<8300) {lotsize= 0.82;}
If (8300<=balance<8400) {lotsize= 0.83;}
If (8400<=balance<8500) {lotsize= 0.84;}
If (8500<=balance<8600) {lotsize= 0.85;}
If (8600<=balance<8700) {lotsize= 0.86;}
If (8700<=balance<8800) {lotsize= 0.87;}
If (8800<=balance<8900) {lotsize= 0.88;}
If (8900<=balance<9000) {lotsize= 0.89;}
If (9000<=balance<9100) {lotsize= 0.90;}
If (9100<=balance<9200) {lotsize= 0.91;}
If (9200<=balance<9300) {lotsize= 0.92;}
If (9300<=balance<9400) {lotsize= 0.93;}
If (9400<=balance<9500) {lotsize= 0.94;}
If (9500<=balance<9600) {lotsize= 0.95;}
If (9600<=balance<9700) {lotsize= 0.96;}
If (9700<=balance<9800) {lotsize= 0.97;}
If (9800<=balance<9900) {lotsize= 0.98;}
If (9900<=balance<10000) {lotsize= 0.99;}
If (10000<=balance<10100) {lotsize= 1.00;}
If (10100<=balance<10200) {lotsize= 1.01;}
If (10200<=balance<10300) {lotsize= 1.02;}
If (10300<=balance<10400) {lotsize= 1.03;}
If (10400<=balance<10500) {lotsize= 1.04;}
If (10500<=balance<10600) {lotsize= 1.05;}
If (10600<=balance<10700) {lotsize= 1.06;}
If (10700<=balance<10800) {lotsize= 1.07;}
If (10800<=balance<10900) {lotsize= 1.08;}
If (10900<=balance<11000) {lotsize= 1.09;}
If (11000<=balance<11100) {lotsize= 1.10;}
If (11100<=balance<11200) {lotsize= 1.11;}
If (11200<=balance<11300) {lotsize= 1.12;}
If (11300<=balance<11400) {lotsize= 1.13;}
If (11400<=balance<11500) {lotsize= 1.14;}
If (11500<=balance<11600) {lotsize= 1.15;}
If (11600<=balance<11700) {lotsize= 1.16;}
If (11700<=balance<11800) {lotsize= 1.17;}
If (11800<=balance<11900) {lotsize= 1.18;}
If (11900<=balance<12000) {lotsize= 1.19;}
If (12000<=balance<12100) {lotsize= 1.20;}
If (12100<=balance<12200) {lotsize= 1.21;}
If (12200<=balance<12300) {lotsize= 1.22;}
If (12300<=balance<12400) {lotsize= 1.23;}
If (12400<=balance<12500) {lotsize= 1.24;}
If (12500<=balance<12600) {lotsize= 1.25;}
If (12600<=balance<12700) {lotsize= 1.26;}
If (12700<=balance<12800) {lotsize= 1.27;}
If (12800<=balance<12900) {lotsize= 1.28;}
If (12900<=balance<13000) {lotsize= 1.29;}
If (13000<=balance<13100) {lotsize= 1.30;}
If (13100<=balance<13200) {lotsize= 1.31;}
If (13200<=balance<13300) {lotsize= 1.32;}
If (13300<=balance<13400) {lotsize= 1.33;}
If (13400<=balance<13500) {lotsize= 1.34;}
If (13500<=balance<13600) {lotsize= 1.35;}
If (13600<=balance<13700) {lotsize= 1.36;}
If (13700<=balance<13800) {lotsize= 1.37;}
If (13800<=balance<13900) {lotsize= 1.38;}
If (13900<=balance<14000) {lotsize= 1.39;}
If (14000<=balance<14100) {lotsize= 1.40;}
If (14100<=balance<14200) {lotsize= 1.41;}
If (14200<=balance<14300) {lotsize= 1.42;}
If (14300<=balance<14400) {lotsize= 1.43;}
If (14400<=balance<14500) {lotsize= 1.44;}
If (14500<=balance<14600) {lotsize= 1.45;}
If (14600<=balance<14700) {lotsize= 1.46;}
If (14700<=balance<14800) {lotsize= 1.47;}
If (14800<=balance<14900) {lotsize= 1.48;}
If (14900<=balance<15000) {lotsize= 1.49;}
If (15000<=balance<15100) {lotsize= 1.50;}
If (15100<=balance<15200) {lotsize= 1.51;}
If (15200<=balance<15300) {lotsize= 1.52;}
If (15300<=balance<15400) {lotsize= 1.53;}
If (15400<=balance<15500) {lotsize= 1.54;}
If (15500<=balance<15600) {lotsize= 1.55;}
If (15600<=balance<15700) {lotsize= 1.56;}
If (15700<=balance<15800) {lotsize= 1.57;}
If (15800<=balance<15900) {lotsize= 1.58;}
If (15900<=balance<16000) {lotsize= 1.59;}
If (16000<=balance<16100) {lotsize= 1.60;}
If (16100<=balance<16200) {lotsize= 1.61;}
If (16200<=balance<16300) {lotsize= 1.62;}
If (16300<=balance<16400) {lotsize= 1.63;}
If (16400<=balance<16500) {lotsize= 1.64;}
If (16500<=balance<16600) {lotsize= 1.65;}
If (16600<=balance<16700) {lotsize= 1.66;}
If (16700<=balance<16800) {lotsize= 1.67;}
If (16800<=balance<16900) {lotsize= 1.68;}
If (16900<=balance<17000) {lotsize= 1.69;}
If (17000<=balance<17100) {lotsize= 1.70;}
If (17100<=balance<17200) {lotsize= 1.71;}
If (17200<=balance<17300) {lotsize= 1.72;}
If (17300<=balance<17400) {lotsize= 1.73;}
If (17400<=balance<17500) {lotsize= 1.74;}
If (17500<=balance<17600) {lotsize= 1.75;}
If (17600<=balance<17700) {lotsize= 1.76;}
If (17700<=balance<17800) {lotsize= 1.77;}
If (17800<=balance<17900) {lotsize= 1.78;}
If (17900<=balance<18000) {lotsize= 1.79;}
If (18000<=balance<18100) {lotsize= 1.80;}
If (18100<=balance<18200) {lotsize= 1.81;}
If (18200<=balance<18300) {lotsize= 1.82;}
If (18300<=balance<18400) {lotsize= 1.83;}
If (18400<=balance<18500) {lotsize= 1.84;}
If (18500<=balance<18600) {lotsize= 1.85;}
If (18600<=balance<18700) {lotsize= 1.86;}
If (18700<=balance<18800) {lotsize= 1.87;}
If (18800<=balance<18900) {lotsize= 1.88;}
If (18900<=balance<19000) {lotsize= 1.89;}
If (19000<=balance<19100) {lotsize= 1.90;}
If (19100<=balance<19200) {lotsize= 1.91;}
If (19200<=balance<19300) {lotsize= 1.92;}
If (19300<=balance<19400) {lotsize= 1.93;}
If (19400<=balance<19500) {lotsize= 1.94;}
If (19500<=balance<19600) {lotsize= 1.95;}
If (19600<=balance<19700) {lotsize= 1.96;}
If (19700<=balance<19800) {lotsize= 1.97;}
If (19800<=balance<19900) {lotsize= 1.98;}
If (19900<=balance<20000) {lotsize= 1.99;}
If (20000<=balance<20100) {lotsize= 2.00;}
If (20100<=balance<20200) {lotsize= 2.01;}
If (20200<=balance<20300) {lotsize= 2.02;}
If (20300<=balance<20400) {lotsize= 2.03;}
If (20400<=balance<20500) {lotsize= 2.04;}
If (20500<=balance<20600) {lotsize= 2.05;}
If (20600<=balance<20700) {lotsize= 2.06;}
If (20700<=balance<20800) {lotsize= 2.07;}
If (20800<=balance<20900) {lotsize= 2.08;}
If (20900<=balance<21000) {lotsize= 2.09;}
If (21000<=balance<21100) {lotsize= 2.10;}
If (21100<=balance<21200) {lotsize= 2.11;}
If (21200<=balance<21300) {lotsize= 2.12;}
If (21300<=balance<21400) {lotsize= 2.13;}
If (21400<=balance<21500) {lotsize= 2.14;}
If (21500<=balance<21600) {lotsize= 2.15;}
If (21600<=balance<21700) {lotsize= 2.16;}
If (21700<=balance<21800) {lotsize= 2.17;}
If (21800<=balance<21900) {lotsize= 2.18;}
If (21900<=balance<22000) {lotsize= 2.19;}
If (22000<=balance<22100) {lotsize= 2.20;}
If (22100<=balance<22200) {lotsize= 2.21;}
If (22200<=balance<22300) {lotsize= 2.22;}
If (22300<=balance<22400) {lotsize= 2.23;}
If (22400<=balance<22500) {lotsize= 2.24;}
If (22500<=balance<22600) {lotsize= 2.25;}
If (22600<=balance<22700) {lotsize= 2.26;}
If (22700<=balance<22800) {lotsize= 2.27;}
If (22800<=balance<22900) {lotsize= 2.28;}
If (22900<=balance<23000) {lotsize= 2.29;}
If (23000<=balance<23100) {lotsize= 2.30;}
If (23100<=balance<23200) {lotsize= 2.31;}
If (23200<=balance<23300) {lotsize= 2.32;}
If (23300<=balance<23400) {lotsize= 2.33;}
If (23400<=balance<23500) {lotsize= 2.34;}
If (23500<=balance<23600) {lotsize= 2.35;}
If (23600<=balance<23700) {lotsize= 2.36;}
If (23700<=balance<23800) {lotsize= 2.37;}
If (23800<=balance<23900) {lotsize= 2.38;}
If (23900<=balance<24000) {lotsize= 2.39;}
If (24000<=balance<24100) {lotsize= 2.40;}
If (24100<=balance<24200) {lotsize= 2.41;}
If (24200<=balance<24300) {lotsize= 2.42;}
If (24300<=balance<24400) {lotsize= 2.43;}
If (24400<=balance<24500) {lotsize= 2.44;}
If (24500<=balance<24600) {lotsize= 2.45;}
If (24600<=balance<24700) {lotsize= 2.46;}
If (24700<=balance<24800) {lotsize= 2.47;}
If (24800<=balance<24900) {lotsize= 2.48;}
If (24900<=balance<25000) {lotsize= 2.49;}
If (25000<=balance<25100) {lotsize= 2.50;}
If (25100<=balance<25200) {lotsize= 2.51;}
If (25200<=balance<25300) {lotsize= 2.52;}
If (25300<=balance<25400) {lotsize= 2.53;}
If (25400<=balance<25500) {lotsize= 2.54;}
If (25500<=balance<25600) {lotsize= 2.55;}
If (25600<=balance<25700) {lotsize= 2.56;}
If (25700<=balance<25800) {lotsize= 2.57;}
If (25800<=balance<25900) {lotsize= 2.58;}
If (25900<=balance<26000) {lotsize= 2.59;}
If (26000<=balance<26100) {lotsize= 2.60;}
If (26100<=balance<26200) {lotsize= 2.61;}
If (26200<=balance<26300) {lotsize= 2.62;}
If (26300<=balance<26400) {lotsize= 2.63;}
If (26400<=balance<26500) {lotsize= 2.64;}
If (26500<=balance<26600) {lotsize= 2.65;}
If (26600<=balance<26700) {lotsize= 2.66;}
If (26700<=balance<26800) {lotsize= 2.67;}
If (26800<=balance<26900) {lotsize= 2.68;}
If (26900<=balance<27000) {lotsize= 2.69;}
If (27000<=balance<27100) {lotsize= 2.70;}
If (27100<=balance<27200) {lotsize= 2.71;}
If (27200<=balance<27300) {lotsize= 2.72;}
If (27300<=balance<27400) {lotsize= 2.73;}
If (27400<=balance<27500) {lotsize= 2.74;}
If (27500<=balance<27600) {lotsize= 2.75;}
If (27600<=balance<27700) {lotsize= 2.76;}
If (27700<=balance<27800) {lotsize= 2.77;}
If (27800<=balance<27900) {lotsize= 2.78;}
If (27900<=balance<28000) {lotsize= 2.79;}
If (28000<=balance<28100) {lotsize= 2.80;}
If (28100<=balance<28200) {lotsize= 2.81;}
If (28200<=balance<28300) {lotsize= 2.82;}
If (28300<=balance<28400) {lotsize= 2.83;}
If (28400<=balance<28500) {lotsize= 2.84;}
If (28500<=balance<28600) {lotsize= 2.85;}
If (28600<=balance<28700) {lotsize= 2.86;}
If (28700<=balance<28800) {lotsize= 2.87;}
If (28800<=balance<28900) {lotsize= 2.88;}
If (28900<=balance<29000) {lotsize= 2.89;}
If (29000<=balance<29100) {lotsize= 2.90;}
If (29100<=balance<29200) {lotsize= 2.91;}
If (29200<=balance<29300) {lotsize= 2.92;}
If (29300<=balance<29400) {lotsize= 2.93;}
If (29400<=balance<29500) {lotsize= 2.94;}
If (29500<=balance<29600) {lotsize= 2.95;}
If (29600<=balance<29700) {lotsize= 2.96;}
If (29700<=balance<29800) {lotsize= 2.97;}
If (29800<=balance<29900) {lotsize= 2.98;}
If (29900<=balance<30000) {lotsize= 2.99;}
If (30000<=balance<30100) {lotsize= 3.00;}
If (30100<=balance<30200) {lotsize= 3.01;}
If (30200<=balance<30300) {lotsize= 3.02;}
If (20300<=balance<20400) {lotsize= 3.03;}
If (30400<=balance<30500) {lotsize= 3.04;}
If (30500<=balance<30600) {lotsize= 3.05;}
If (30600<=balance<30700) {lotsize= 3.06;}
If (30700<=balance<30800) {lotsize= 3.07;}
If (30800<=balance<30900) {lotsize= 3.08;}
If (30900<=balance<31000) {lotsize= 3.09;}
If (31000<=balance<31100) {lotsize= 3.10;}
If (31100<=balance<31200) {lotsize= 3.11;}
If (31200<=balance<31300) {lotsize= 3.12;}
If (31300<=balance<31400) {lotsize= 3.13;}
If (31400<=balance<31500) {lotsize= 3.14;}
If (31500<=balance<31600) {lotsize= 3.15;}
If (31600<=balance<31700) {lotsize= 3.16;}
If (31700<=balance<31800) {lotsize= 3.17;}
If (31800<=balance<31900) {lotsize= 3.18;}
If (31900<=balance<32000) {lotsize= 3.19;}
If (32000<=balance<32100) {lotsize= 3.20;}
If (32100<=balance<32200) {lotsize= 3.21;}
If (32200<=balance<32300) {lotsize= 3.22;}
If (32300<=balance<32400) {lotsize= 3.23;}
If (32400<=balance<32500) {lotsize= 3.24;}
If (32500<=balance<32600) {lotsize= 3.25;}
If (32600<=balance<32700) {lotsize= 3.26;}
If (32700<=balance<32800) {lotsize= 3.27;}
If (32800<=balance<32900) {lotsize= 3.28;}
If (32900<=balance<33000) {lotsize= 3.29;}
If (33000<=balance<33100) {lotsize= 3.30;}
If (33100<=balance<33200) {lotsize= 3.31;}
If (33200<=balance<33300) {lotsize= 3.32;}
If (33300<=balance<33400) {lotsize= 3.33;}
If (33400<=balance<33500) {lotsize= 3.34;}
If (33500<=balance<33600) {lotsize= 3.35;}
If (33600<=balance<33700) {lotsize= 3.36;}
If (33700<=balance<33800) {lotsize= 3.37;}
If (33800<=balance<33900) {lotsize= 3.38;}
If (33900<=balance<34000) {lotsize= 3.39;}
If (34000<=balance<34100) {lotsize= 3.40;}
If (34100<=balance<34200) {lotsize= 3.41;}
If (34200<=balance<34300) {lotsize= 3.42;}
If (34300<=balance<34400) {lotsize= 3.43;}
If (34400<=balance<34500) {lotsize= 3.44;}
If (34500<=balance<34600) {lotsize= 3.45;}
If (34600<=balance<34700) {lotsize= 3.46;}
If (34700<=balance<34800) {lotsize= 3.47;}
If (34800<=balance<34900) {lotsize= 3.48;}
If (34900<=balance<35000) {lotsize= 3.49;}
If (35000<=balance<35100) {lotsize= 3.50;}
If (35100<=balance<35200) {lotsize= 3.51;}
If (35200<=balance<35300) {lotsize= 3.52;}
If (35300<=balance<35400) {lotsize= 3.53;}
If (35400<=balance<35500) {lotsize= 3.54;}
If (35500<=balance<35600) {lotsize= 3.55;}
If (35600<=balance<35700) {lotsize= 3.56;}
If (35700<=balance<35800) {lotsize= 3.57;}
If (35800<=balance<35900) {lotsize= 3.58;}
If (35900<=balance<36000) {lotsize= 3.59;}
If (36000<=balance<36100) {lotsize= 3.60;}
If (36100<=balance<36200) {lotsize= 3.61;}
If (36200<=balance<36300) {lotsize= 3.62;}
If (36300<=balance<36400) {lotsize= 3.63;}
If (36400<=balance<36500) {lotsize= 3.64;}
If (36500<=balance<36600) {lotsize= 3.65;}
If (36600<=balance<36700) {lotsize= 3.66;}
If (36700<=balance<36800) {lotsize= 3.67;}
If (36800<=balance<36900) {lotsize= 3.68;}
If (36900<=balance<37000) {lotsize= 3.69;}
If (37000<=balance<37100) {lotsize= 3.70;}
If (37100<=balance<37200) {lotsize= 3.71;}
If (37200<=balance<37300) {lotsize= 3.72;}
If (37300<=balance<37400) {lotsize= 3.73;}
If (37400<=balance<37500) {lotsize= 3.74;}
If (37500<=balance<37600) {lotsize= 3.75;}
If (37600<=balance<37700) {lotsize= 3.76;}
If (37700<=balance<37800) {lotsize= 3.77;}
If (37800<=balance<37900) {lotsize= 3.78;}
If (37900<=balance<38000) {lotsize= 3.79;}
If (38000<=balance<38100) {lotsize= 3.80;}
If (38100<=balance<38200) {lotsize= 3.81;}
If (38200<=balance<38300) {lotsize= 3.82;}
If (38300<=balance<38400) {lotsize= 3.83;}
If (38400<=balance<38500) {lotsize= 3.84;}
If (38500<=balance<38600) {lotsize= 3.85;}
If (38600<=balance<38700) {lotsize= 3.86;}
If (38700<=balance<38800) {lotsize= 3.87;}
If (38800<=balance<38900) {lotsize= 3.88;}
If (38900<=balance<39000) {lotsize= 3.89;}
If (39000<=balance<39100) {lotsize= 3.90;}
If (39100<=balance<39200) {lotsize= 3.91;}
If (39200<=balance<39300) {lotsize= 3.92;}
If (39300<=balance<39400) {lotsize= 3.93;}
If (39400<=balance<39500) {lotsize= 3.94;}
If (39500<=balance<39600) {lotsize= 3.95;}
If (39600<=balance<39700) {lotsize= 3.96;}
If (39700<=balance<39800) {lotsize= 3.97;}
If (39800<=balance<39900) {lotsize= 3.98;}
If (39900<=balance<40000) {lotsize= 3.99;}
If (40000<=balance<40100) {lotsize= 4.00;}
If (40100<=balance<40200) {lotsize= 4.01;}
If (40200<=balance<40300) {lotsize= 4.02;}
If (40300<=balance<40400) {lotsize= 4.03;}
If (40400<=balance<40500) {lotsize= 4.04;}
If (40500<=balance<40600) {lotsize= 4.05;}
If (40600<=balance<40700) {lotsize= 4.06;}
If (40700<=balance<40800) {lotsize= 4.07;}
If (40800<=balance<40900) {lotsize= 4.08;}
If (40900<=balance<41000) {lotsize= 4.09;}
If (41000<=balance<41100) {lotsize= 4.10;}
If (41100<=balance<41200) {lotsize= 4.11;}
If (41200<=balance<41300) {lotsize= 4.12;}
If (41300<=balance<41400) {lotsize= 4.13;}
If (41400<=balance<41500) {lotsize= 4.14;}
If (41500<=balance<41600) {lotsize= 4.15;}
If (41600<=balance<41700) {lotsize= 4.16;}
If (41700<=balance<41800) {lotsize= 4.17;}
If (41800<=balance<41900) {lotsize= 4.18;}
If (41900<=balance<42000) {lotsize= 4.19;}
If (42000<=balance<42100) {lotsize= 4.20;}
If (42100<=balance<42200) {lotsize= 4.21;}
If (42200<=balance<42300) {lotsize= 4.22;}
If (42300<=balance<42400) {lotsize= 4.23;}
If (42400<=balance<42500) {lotsize= 4.24;}
If (42500<=balance<42600) {lotsize= 4.25;}
If (42600<=balance<42700) {lotsize= 4.26;}
If (42700<=balance<42800) {lotsize= 4.27;}
If (42800<=balance<42900) {lotsize= 4.28;}
If (42900<=balance<43000) {lotsize= 4.29;}
If (43000<=balance<43100) {lotsize= 4.30;}
If (43100<=balance<43200) {lotsize= 4.31;}
If (43200<=balance<43300) {lotsize= 4.32;}
If (43300<=balance<43400) {lotsize= 4.33;}
If (43400<=balance<43500) {lotsize= 4.34;}
If (43500<=balance<43600) {lotsize= 4.35;}
If (43600<=balance<43700) {lotsize= 4.36;}
If (43700<=balance<43800) {lotsize= 4.37;}
If (43800<=balance<43900) {lotsize= 4.38;}
If (43900<=balance<44000) {lotsize= 4.39;}
If (44000<=balance<44100) {lotsize= 4.40;}
If (44100<=balance<44200) {lotsize= 4.41;}
If (44200<=balance<44300) {lotsize= 4.42;}
If (44300<=balance<44400) {lotsize= 4.43;}
If (44400<=balance<44500) {lotsize= 4.44;}
If (44500<=balance<44600) {lotsize= 4.45;}
If (44600<=balance<44700) {lotsize= 4.46;}
If (44700<=balance<44800) {lotsize= 4.47;}
If (44800<=balance<44900) {lotsize= 4.48;}
If (44900<=balance<45000) {lotsize= 4.49;}
If (45000<=balance<45100) {lotsize= 4.50;}
If (45100<=balance<45200) {lotsize= 4.51;}
If (45200<=balance<45300) {lotsize= 4.52;}
If (45300<=balance<45400) {lotsize= 4.53;}
If (45400<=balance<45500) {lotsize= 4.54;}
If (45500<=balance<45600) {lotsize= 4.55;}
If (45600<=balance<45700) {lotsize= 4.56;}
If (45700<=balance<45800) {lotsize= 4.57;}
If (45800<=balance<45900) {lotsize= 4.58;}
If (45900<=balance<46000) {lotsize= 4.59;}
If (46000<=balance<46100) {lotsize= 4.60;}
If (46100<=balance<46200) {lotsize= 4.61;}
If (46200<=balance<46300) {lotsize= 4.62;}
If (46300<=balance<46400) {lotsize= 4.63;}
If (46400<=balance<46500) {lotsize= 4.64;}
If (46500<=balance<46600) {lotsize= 4.65;}
If (46600<=balance<46700) {lotsize= 4.66;}
If (46700<=balance<46800) {lotsize= 4.67;}
If (46800<=balance<46900) {lotsize= 4.68;}
If (46900<=balance<47000) {lotsize= 4.69;}
If (47000<=balance<47100) {lotsize= 4.70;}
If (47100<=balance<47200) {lotsize= 4.71;}
If (47200<=balance<47300) {lotsize= 4.72;}
If (47300<=balance<47400) {lotsize= 4.73;}
If (47400<=balance<47500) {lotsize= 4.74;}
If (47500<=balance<47600) {lotsize= 4.75;}
If (47600<=balance<47700) {lotsize= 4.76;}
If (47700<=balance<47800) {lotsize= 4.77;}
If (47800<=balance<47900) {lotsize= 4.78;}
If (47900<=balance<48000) {lotsize= 4.79;}
If (48000<=balance<48100) {lotsize= 4.80;}
If (48100<=balance<48200) {lotsize= 4.81;}
If (48200<=balance<48300) {lotsize= 4.82;}
If (48300<=balance<48400) {lotsize= 4.83;}
If (48400<=balance<48500) {lotsize= 4.84;}
If (48500<=balance<48600) {lotsize= 4.85;}
If (48600<=balance<48700) {lotsize= 4.86;}
If (48700<=balance<48800) {lotsize= 4.87;}
If (48800<=balance<48900) {lotsize= 4.88;}
If (48900<=balance<49000) {lotsize= 4.89;}
If (49000<=balance<49100) {lotsize= 4.90;}
If (49100<=balance<49200) {lotsize= 4.91;}
If (49200<=balance<49300) {lotsize= 4.92;}
If (49300<=balance<49400) {lotsize= 4.93;}
If (49400<=balance<49500) {lotsize= 4.94;}
If (49500<=balance<49600) {lotsize= 4.95;}
If (49600<=balance<49700) {lotsize= 4.96;}
If (49700<=balance<49800) {lotsize= 4.97;}
If (49800<=balance<49900) {lotsize= 4.98;}
If (49900<=balance<50000) {lotsize= 4.99;}
If (50000<=balance<50100) {lotsize= 5.00;}
If (50100<=balance<50200) {lotsize= 5.01;}
If (50200<=balance<50300) {lotsize= 5.02;}
If (50300<=balance<50400) {lotsize= 5.03;}
If (50400<=balance<50500) {lotsize= 5.04;}
If (50500<=balance<50600) {lotsize= 5.05;}
If (50600<=balance<50700) {lotsize= 5.06;}
If (50700<=balance<50800) {lotsize= 5.07;}
If (50800<=balance<50900) {lotsize= 5.08;}
If (50900<=balance<51000) {lotsize= 5.09;}
If (51000<=balance<51100) {lotsize= 5.10;}
If (51100<=balance<51200) {lotsize= 5.11;}
If (51200<=balance<51300) {lotsize= 5.12;}
If (51300<=balance<51400) {lotsize= 5.13;}
If (51400<=balance<51500) {lotsize= 5.14;}
If (51500<=balance<51600) {lotsize= 5.15;}
If (51600<=balance<51700) {lotsize= 5.16;}
If (51700<=balance<51800) {lotsize= 5.17;}
If (51800<=balance<51900) {lotsize= 5.18;}
If (51900<=balance<52000) {lotsize= 5.19;}
If (52000<=balance<52100) {lotsize= 5.20;}
If (52100<=balance<52200) {lotsize= 5.21;}
If (52200<=balance<52300) {lotsize= 5.22;}
If (52300<=balance<52400) {lotsize= 5.23;}
If (52400<=balance<52500) {lotsize= 5.24;}
If (52500<=balance<52600) {lotsize= 5.25;}
If (52600<=balance<52700) {lotsize= 5.26;}
If (52700<=balance<52800) {lotsize= 5.27;}
If (52800<=balance<52900) {lotsize= 5.28;}
If (52900<=balance<53000) {lotsize= 5.29;}
If (53000<=balance<53100) {lotsize= 5.30;}
If (53100<=balance<53200) {lotsize= 5.31;}
If (53200<=balance<53300) {lotsize= 5.32;}
If (53300<=balance<53400) {lotsize= 5.33;}
If (53400<=balance<53500) {lotsize= 5.34;}
If (53500<=balance<53600) {lotsize= 5.35;}
If (53600<=balance<53700) {lotsize= 5.36;}
If (53700<=balance<53800) {lotsize= 5.37;}
If (53800<=balance<53900) {lotsize= 5.38;}
If (53900<=balance<54000) {lotsize= 5.39;}
If (54000<=balance<54100) {lotsize= 5.40;}
If (54100<=balance<54200) {lotsize= 5.41;}
If (54200<=balance<54300) {lotsize= 5.42;}
If (54300<=balance<54400) {lotsize= 5.43;}
If (54400<=balance<54500) {lotsize= 5.44;}
If (54500<=balance<54600) {lotsize= 5.45;}
If (54600<=balance<54700) {lotsize= 5.46;}
If (54700<=balance<54800) {lotsize= 5.47;}
If (54800<=balance<54900) {lotsize= 5.48;}
If (54900<=balance<55000) {lotsize= 5.49;}
If (55000<=balance<55100) {lotsize= 5.50;}
If (55100<=balance<55200) {lotsize= 5.51;}
If (55200<=balance<55300) {lotsize= 5.52;}
If (55300<=balance<55400) {lotsize= 5.53;}
If (55400<=balance<55500) {lotsize= 5.54;}
If (55500<=balance<55600) {lotsize= 5.55;}
If (55600<=balance<55700) {lotsize= 5.56;}
If (55700<=balance<55800) {lotsize= 5.57;}
If (55800<=balance<55900) {lotsize= 5.58;}
If (55900<=balance<56000) {lotsize= 5.59;}
If (56000<=balance<56100) {lotsize= 5.60;}
If (56100<=balance<56200) {lotsize= 5.61;}
If (56200<=balance<56300) {lotsize= 5.62;}
If (56300<=balance<56400) {lotsize= 5.63;}
If (56400<=balance<56500) {lotsize= 5.64;}
If (56500<=balance<56600) {lotsize= 5.65;}
If (56600<=balance<56700) {lotsize= 5.66;}
If (56700<=balance<56800) {lotsize= 5.67;}
If (56800<=balance<56900) {lotsize= 5.68;}
If (56900<=balance<57000) {lotsize= 5.69;}
If (57000<=balance<57100) {lotsize= 5.70;}
If (57100<=balance<57200) {lotsize= 5.71;}
If (57200<=balance<57300) {lotsize= 5.72;}
If (57300<=balance<57400) {lotsize= 5.73;}
If (57400<=balance<57500) {lotsize= 5.74;}
If (57500<=balance<57600) {lotsize= 5.75;}
If (57600<=balance<57700) {lotsize= 5.76;}
If (57700<=balance<57800) {lotsize= 5.77;}
If (57800<=balance<57900) {lotsize= 5.78;}
If (57900<=balance<58000) {lotsize= 5.79;}
If (58000<=balance<58100) {lotsize= 5.80;}
If (58100<=balance<58200) {lotsize= 5.81;}
If (58200<=balance<58300) {lotsize= 5.82;}
If (58300<=balance<58400) {lotsize= 5.83;}
If (58400<=balance<58500) {lotsize= 5.84;}
If (58500<=balance<58600) {lotsize= 5.85;}
If (58600<=balance<58700) {lotsize= 5.86;}
If (58700<=balance<58800) {lotsize= 5.87;}
If (58800<=balance<58900) {lotsize= 5.88;}
If (58900<=balance<59000) {lotsize= 5.89;}
If (59000<=balance<59100) {lotsize= 5.90;}
If (59100<=balance<59200) {lotsize= 5.91;}
If (59200<=balance<59300) {lotsize= 5.92;}
If (59300<=balance<59400) {lotsize= 5.93;}
If (59400<=balance<59500) {lotsize= 5.94;}
If (59500<=balance<59600) {lotsize= 5.95;}
If (59600<=balance<59700) {lotsize= 5.96;}
If (59700<=balance<59800) {lotsize= 5.97;}
If (59800<=balance<59900) {lotsize= 5.98;}
If (59900<=balance<60000) {lotsize= 5.99;}
If (60000<=balance<60100) {lotsize= 6.00;}
If (60100<=balance<60200) {lotsize= 6.01;}
If (60200<=balance<60300) {lotsize= 6.02;}
If (60300<=balance<60400) {lotsize= 6.03;}
If (60400<=balance<60500) {lotsize= 6.04;}
If (60500<=balance<60600) {lotsize= 6.05;}
If (60600<=balance<60700) {lotsize= 6.06;}
If (60700<=balance<60800) {lotsize= 6.07;}
If (60800<=balance<60900) {lotsize= 6.08;}
If (60900<=balance<61000) {lotsize= 6.09;}
If (61000<=balance<61100) {lotsize= 6.10;}
If (61100<=balance<61200) {lotsize= 6.11;}
If (61200<=balance<61300) {lotsize= 6.12;}
If (61300<=balance<61400) {lotsize= 6.13;}
If (61400<=balance<61500) {lotsize= 6.14;}
If (61500<=balance<61600) {lotsize= 6.15;}
If (61600<=balance<61700) {lotsize= 6.16;}
If (61700<=balance<61800) {lotsize= 6.17;}
If (61800<=balance<61900) {lotsize= 6.18;}
If (61900<=balance<62000) {lotsize= 6.19;}
If (62000<=balance<62100) {lotsize= 6.20;}
If (62100<=balance<62200) {lotsize= 6.21;}
If (62200<=balance<62300) {lotsize= 6.22;}
If (62300<=balance<62400) {lotsize= 6.23;}
If (62400<=balance<62500) {lotsize= 6.24;}
If (62500<=balance<62600) {lotsize= 6.25;}
If (62600<=balance<62700) {lotsize= 6.26;}
If (62700<=balance<62800) {lotsize= 6.27;}
If (62800<=balance<62900) {lotsize= 6.28;}
If (62900<=balance<63000) {lotsize= 6.29;}
If (63000<=balance<63100) {lotsize= 6.30;}
If (63100<=balance<63200) {lotsize= 6.31;}
If (63200<=balance<63300) {lotsize= 6.32;}
If (63300<=balance<63400) {lotsize= 6.33;}
If (63400<=balance<63500) {lotsize= 6.34;}
If (63500<=balance<63600) {lotsize= 6.35;}
If (63600<=balance<63700) {lotsize= 6.36;}
If (63700<=balance<63800) {lotsize= 6.37;}
If (63800<=balance<63900) {lotsize= 6.38;}
If (63900<=balance<64000) {lotsize= 6.39;}
If (64000<=balance<64100) {lotsize= 6.40;}
If (64100<=balance<64200) {lotsize= 6.41;}
If (64200<=balance<64300) {lotsize= 6.42;}
If (64300<=balance<64400) {lotsize= 6.43;}
If (64400<=balance<64500) {lotsize= 6.44;}
If (64500<=balance<64600) {lotsize= 6.45;}
If (64600<=balance<64700) {lotsize= 6.46;}
If (64700<=balance<64800) {lotsize= 6.47;}
If (64800<=balance<64900) {lotsize= 6.48;}
If (64900<=balance<65000) {lotsize= 6.49;}
If (65000<=balance<65100) {lotsize= 6.50;}
If (65100<=balance<65200) {lotsize= 6.51;}
If (65200<=balance<65300) {lotsize= 6.52;}
If (65300<=balance<65400) {lotsize= 6.53;}
If (65400<=balance<65500) {lotsize= 6.54;}
If (65500<=balance<65600) {lotsize= 6.55;}
If (65600<=balance<65700) {lotsize= 6.56;}
If (65700<=balance<65800) {lotsize= 6.57;}
If (65800<=balance<65900) {lotsize= 6.58;}
If (65900<=balance<66000) {lotsize= 6.59;}
If (66000<=balance<66100) {lotsize= 6.60;}
If (66100<=balance<66200) {lotsize= 6.61;}
If (66200<=balance<66300) {lotsize= 6.62;}
If (66300<=balance<66400) {lotsize= 6.63;}
If (66400<=balance<66500) {lotsize= 6.64;}
If (66500<=balance<66600) {lotsize= 6.65;}
If (66600<=balance<66700) {lotsize= 6.66;}
If (66700<=balance<66800) {lotsize= 6.67;}
If (66800<=balance<66900) {lotsize= 6.68;}
If (66900<=balance<67000) {lotsize= 6.69;}
If (67000<=balance<67100) {lotsize= 6.70;}
If (67100<=balance<67200) {lotsize= 6.71;}
If (67200<=balance<67300) {lotsize= 6.72;}
If (67300<=balance<67400) {lotsize= 6.73;}
If (67400<=balance<67500) {lotsize= 6.74;}
If (67500<=balance<67600) {lotsize= 6.75;}
If (67600<=balance<67700) {lotsize= 6.76;}
If (67700<=balance<67800) {lotsize= 6.77;}
If (67800<=balance<67900) {lotsize= 6.78;}
If (67900<=balance<68000) {lotsize= 6.79;}
If (68000<=balance<68100) {lotsize= 6.80;}
If (68100<=balance<68200) {lotsize= 6.81;}
If (68200<=balance<68300) {lotsize= 6.82;}
If (68300<=balance<68400) {lotsize= 6.83;}
If (68400<=balance<68500) {lotsize= 6.84;}
If (68500<=balance<68600) {lotsize= 6.85;}
If (68600<=balance<68700) {lotsize= 6.86;}
If (68700<=balance<68800) {lotsize= 6.87;}
If (68800<=balance<68900) {lotsize= 6.88;}
If (68900<=balance<69000) {lotsize= 6.89;}
If (69000<=balance<69100) {lotsize= 6.90;}
If (69100<=balance<69200) {lotsize= 6.91;}
If (69200<=balance<69300) {lotsize= 6.92;}
If (69300<=balance<69400) {lotsize= 6.93;}
If (69400<=balance<69500) {lotsize= 6.94;}
If (69500<=balance<69600) {lotsize= 6.95;}
If (69600<=balance<69700) {lotsize= 6.96;}
If (69700<=balance<69800) {lotsize= 6.97;}
If (69800<=balance<69900) {lotsize= 6.98;}
If (69900<=balance<70000) {lotsize= 6.99;}
If (70000<=balance<70100) {lotsize= 7.00;}
If (70100<=balance<70200) {lotsize= 7.01;}
If (70200<=balance<70300) {lotsize= 7.02;}
If (70300<=balance<70400) {lotsize= 7.03;}
If (70400<=balance<70500) {lotsize= 7.04;}
If (70500<=balance<70600) {lotsize= 7.05;}
If (70600<=balance<70700) {lotsize= 7.06;}
If (70700<=balance<70800) {lotsize= 7.07;}
If (70800<=balance<70900) {lotsize= 7.08;}
If (70900<=balance<71000) {lotsize= 7.09;}
If (71000<=balance<71100) {lotsize= 7.10;}
If (71100<=balance<71200) {lotsize= 7.11;}
If (71200<=balance<71300) {lotsize= 7.12;}
If (71300<=balance<71400) {lotsize= 7.13;}
If (71400<=balance<71500) {lotsize= 7.14;}
If (71500<=balance<71600) {lotsize= 7.15;}
If (71600<=balance<71700) {lotsize= 7.16;}
If (71700<=balance<71800) {lotsize= 7.17;}
If (71800<=balance<71900) {lotsize= 7.18;}
If (71900<=balance<72000) {lotsize= 7.19;}
If (72000<=balance<72100) {lotsize= 7.20;}
If (72100<=balance<72200) {lotsize= 7.21;}
If (72200<=balance<72300) {lotsize= 7.22;}
If (72300<=balance<72400) {lotsize= 7.23;}
If (72400<=balance<72500) {lotsize= 7.24;}
If (72500<=balance<72600) {lotsize= 7.25;}
If (72600<=balance<72700) {lotsize= 7.26;}
If (72700<=balance<72800) {lotsize= 7.27;}
If (72800<=balance<72900) {lotsize= 7.28;}
If (72900<=balance<73000) {lotsize= 7.29;}
If (73000<=balance<73100) {lotsize= 7.30;}
If (73100<=balance<73200) {lotsize= 7.31;}
If (73200<=balance<73300) {lotsize= 7.32;}
If (73300<=balance<73400) {lotsize= 7.33;}
If (73400<=balance<73500) {lotsize= 7.34;}
If (73500<=balance<73600) {lotsize= 7.35;}
If (73600<=balance<73700) {lotsize= 7.36;}
If (73700<=balance<73800) {lotsize= 7.37;}
If (73800<=balance<73900) {lotsize= 7.38;}
If (73900<=balance<74000) {lotsize= 7.39;}
If (74000<=balance<74100) {lotsize= 7.40;}
If (74100<=balance<74200) {lotsize= 7.41;}
If (74200<=balance<74300) {lotsize= 7.42;}
If (74300<=balance<74400) {lotsize= 7.43;}
If (74400<=balance<74500) {lotsize= 7.44;}
If (74500<=balance<74600) {lotsize= 7.45;}
If (74600<=balance<74700) {lotsize= 7.46;}
If (74700<=balance<74800) {lotsize= 7.47;}
If (74800<=balance<74900) {lotsize= 7.48;}
If (74900<=balance<75000) {lotsize= 7.49;}
If (75000<=balance<75100) {lotsize= 7.50;}
If (75100<=balance<75200) {lotsize= 7.51;}
If (75200<=balance<75300) {lotsize= 7.52;}
If (75300<=balance<75400) {lotsize= 7.53;}
If (75400<=balance<75500) {lotsize= 7.54;}
If (75500<=balance<75600) {lotsize= 7.55;}
If (75600<=balance<75700) {lotsize= 7.56;}
If (75700<=balance<75800) {lotsize= 7.57;}
If (75800<=balance<75900) {lotsize= 7.58;}
If (75900<=balance<76000) {lotsize= 7.59;}
If (76000<=balance<76100) {lotsize= 7.60;}
If (76100<=balance<76200) {lotsize= 7.61;}
If (76200<=balance<76300) {lotsize= 7.62;}
If (76300<=balance<76400) {lotsize= 7.63;}
If (76400<=balance<76500) {lotsize= 7.64;}
If (76500<=balance<76600) {lotsize= 7.65;}
If (76600<=balance<76700) {lotsize= 7.66;}
If (76700<=balance<76800) {lotsize= 7.67;}
If (76800<=balance<76900) {lotsize= 7.68;}
If (76900<=balance<77000) {lotsize= 7.69;}
If (77000<=balance<77100) {lotsize= 7.70;}
If (77100<=balance<77200) {lotsize= 7.71;}
If (77200<=balance<77300) {lotsize= 7.72;}
If (77300<=balance<77400) {lotsize= 7.73;}
If (77400<=balance<77500) {lotsize= 7.74;}
If (77500<=balance<77600) {lotsize= 7.75;}
If (77600<=balance<77700) {lotsize= 7.76;}
If (77700<=balance<77800) {lotsize= 7.77;}
If (77800<=balance<77900) {lotsize= 7.78;}
If (77900<=balance<78000) {lotsize= 7.79;}
If (78000<=balance<78100) {lotsize= 7.80;}
If (78100<=balance<78200) {lotsize= 7.81;}
If (78200<=balance<78300) {lotsize= 7.82;}
If (78300<=balance<78400) {lotsize= 7.83;}
If (78400<=balance<78500) {lotsize= 7.84;}
If (78500<=balance<78600) {lotsize= 7.85;}
If (78600<=balance<78700) {lotsize= 7.86;}
If (78700<=balance<78800) {lotsize= 7.87;}
If (78800<=balance<78900) {lotsize= 7.88;}
If (78900<=balance<79000) {lotsize= 7.89;}
If (79000<=balance<79100) {lotsize= 7.90;}
If (79100<=balance<79200) {lotsize= 7.91;}
If (79200<=balance<79300) {lotsize= 7.92;}
If (79300<=balance<79400) {lotsize= 7.93;}
If (79400<=balance<79500) {lotsize= 7.94;}
If (79500<=balance<79600) {lotsize= 7.95;}
If (79600<=balance<79700) {lotsize= 7.96;}
If (79700<=balance<79800) {lotsize= 7.97;}
If (79800<=balance<79900) {lotsize= 7.98;}
If (79900<=balance<80000) {lotsize= 7.99;}
If (80000<=balance<80100) {lotsize= 8.00;}
If (80100<=balance<80200) {lotsize= 8.01;}
If (80200<=balance<80300) {lotsize= 8.02;}
If (80300<=balance<80400) {lotsize= 8.03;}
If (80400<=balance<80500) {lotsize= 8.04;}
If (80500<=balance<80600) {lotsize= 8.05;}
If (80600<=balance<80700) {lotsize= 8.06;}
If (80700<=balance<80800) {lotsize= 8.07;}
If (80800<=balance<80900) {lotsize= 8.08;}
If (80900<=balance<81000) {lotsize= 8.09;}
If (81000<=balance<81100) {lotsize= 8.10;}
If (81100<=balance<81200) {lotsize= 8.11;}
If (81200<=balance<81300) {lotsize= 8.12;}
If (81300<=balance<81400) {lotsize= 8.13;}
If (81400<=balance<81500) {lotsize= 8.14;}
If (81500<=balance<81600) {lotsize= 8.15;}
If (81600<=balance<81700) {lotsize= 8.16;}
If (81700<=balance<81800) {lotsize= 8.17;}
If (81800<=balance<81900) {lotsize= 8.18;}
If (81900<=balance<82000) {lotsize= 8.19;}
If (82000<=balance<82100) {lotsize= 8.20;}
If (82100<=balance<82200) {lotsize= 8.21;}
If (82200<=balance<82300) {lotsize= 8.22;}
If (82300<=balance<82400) {lotsize= 8.23;}
If (82400<=balance<82500) {lotsize= 8.24;}
If (82500<=balance<82600) {lotsize= 8.25;}
If (82600<=balance<82700) {lotsize= 8.26;}
If (82700<=balance<82800) {lotsize= 8.27;}
If (82800<=balance<82900) {lotsize= 8.28;}
If (82900<=balance<83000) {lotsize= 8.29;}
If (83000<=balance<83100) {lotsize= 8.30;}
If (83100<=balance<83200) {lotsize= 8.31;}
If (83200<=balance<83300) {lotsize= 8.32;}
If (83300<=balance<83400) {lotsize= 8.33;}
If (83400<=balance<83500) {lotsize= 8.34;}
If (83500<=balance<83600) {lotsize= 8.35;}
If (83600<=balance<83700) {lotsize= 8.36;}
If (83700<=balance<83800) {lotsize= 8.37;}
If (83800<=balance<83900) {lotsize= 8.38;}
If (83900<=balance<84000) {lotsize= 8.39;}
If (84000<=balance<84100) {lotsize= 8.40;}
If (84100<=balance<84200) {lotsize= 8.41;}
If (84200<=balance<84300) {lotsize= 8.42;}
If (84300<=balance<84400) {lotsize= 8.43;}
If (84400<=balance<84500) {lotsize= 8.44;}
If (84500<=balance<84600) {lotsize= 8.45;}
If (84600<=balance<84700) {lotsize= 8.46;}
If (84700<=balance<84800) {lotsize= 8.47;}
If (84800<=balance<84900) {lotsize= 8.48;}
If (84900<=balance<85000) {lotsize= 8.49;}
If (85000<=balance<85100) {lotsize= 8.50;}
If (85100<=balance<85200) {lotsize= 8.51;}
If (85200<=balance<85300) {lotsize= 8.52;}
If (85300<=balance<85400) {lotsize= 8.53;}
If (85400<=balance<85500) {lotsize= 8.54;}
If (85500<=balance<85600) {lotsize= 8.55;}
If (85600<=balance<85700) {lotsize= 8.56;}
If (85700<=balance<85800) {lotsize= 8.57;}
If (85800<=balance<85900) {lotsize= 8.58;}
If (85900<=balance<86000) {lotsize= 8.59;}
If (86000<=balance<86100) {lotsize= 8.60;}
If (86100<=balance<86200) {lotsize= 8.61;}
If (86200<=balance<86300) {lotsize= 8.62;}
If (86300<=balance<86400) {lotsize= 8.63;}
If (86400<=balance<86500) {lotsize= 8.64;}
If (86500<=balance<86600) {lotsize= 8.65;}
If (86600<=balance<86700) {lotsize= 8.66;}
If (86700<=balance<86800) {lotsize= 8.67;}
If (86800<=balance<86900) {lotsize= 8.68;}
If (86900<=balance<87000) {lotsize= 8.69;}
If (87000<=balance<87100) {lotsize= 8.70;}
If (87100<=balance<87200) {lotsize= 8.71;}
If (87200<=balance<87300) {lotsize= 8.72;}
If (87300<=balance<87400) {lotsize= 8.73;}
If (87400<=balance<87500) {lotsize= 8.74;}
If (87500<=balance<87600) {lotsize= 8.75;}
If (87600<=balance<87700) {lotsize= 8.76;}
If (87700<=balance<87800) {lotsize= 8.77;}
If (87800<=balance<87900) {lotsize= 8.78;}
If (87900<=balance<88000) {lotsize= 8.79;}
If (88000<=balance<88100) {lotsize= 8.80;}
If (88100<=balance<88200) {lotsize= 8.81;}
If (88200<=balance<88300) {lotsize= 8.82;}
If (88300<=balance<88400) {lotsize= 8.83;}
If (88400<=balance<88500) {lotsize= 8.84;}
If (88500<=balance<88600) {lotsize= 8.85;}
If (88600<=balance<88700) {lotsize= 8.86;}
If (88700<=balance<88800) {lotsize= 8.87;}
If (88800<=balance<88900) {lotsize= 8.88;}
If (88900<=balance<89000) {lotsize= 8.89;}
If (89000<=balance<89100) {lotsize= 8.90;}
If (89100<=balance<89200) {lotsize= 8.91;}
If (89200<=balance<89300) {lotsize= 8.92;}
If (89300<=balance<89400) {lotsize= 8.93;}
If (89400<=balance<89500) {lotsize= 8.94;}
If (89500<=balance<89600) {lotsize= 8.95;}
If (89600<=balance<89700) {lotsize= 8.96;}
If (89700<=balance<89800) {lotsize= 8.97;}
If (89800<=balance<89900) {lotsize= 8.98;}
If (89900<=balance<90000) {lotsize= 8.99;}
If (90000<=balance<90100) {lotsize= 9.00;}
If (90100<=balance<90200) {lotsize= 9.01;}
If (90200<=balance<90300) {lotsize= 9.02;}
If (90300<=balance<90400) {lotsize= 9.03;}
If (90400<=balance<90500) {lotsize= 9.04;}
If (90500<=balance<90600) {lotsize= 9.05;}
If (90600<=balance<90700) {lotsize= 9.06;}
If (90700<=balance<90800) {lotsize= 9.07;}
If (90800<=balance<90900) {lotsize= 9.08;}
If (90900<=balance<91000) {lotsize= 9.09;}
If (91000<=balance<91100) {lotsize= 9.10;}
If (91100<=balance<91200) {lotsize= 9.11;}
If (91200<=balance<91300) {lotsize= 9.12;}
If (91300<=balance<91400) {lotsize= 9.13;}
If (91400<=balance<91500) {lotsize= 9.14;}
If (91500<=balance<91600) {lotsize= 9.15;}
If (91600<=balance<91700) {lotsize= 9.16;}
If (91700<=balance<91800) {lotsize= 9.17;}
If (91800<=balance<91900) {lotsize= 9.18;}
If (91900<=balance<92000) {lotsize= 9.19;}
If (92000<=balance<92100) {lotsize= 9.20;}
If (92100<=balance<92200) {lotsize= 9.21;}
If (92200<=balance<92300) {lotsize= 9.22;}
If (92300<=balance<92400) {lotsize= 9.23;}
If (92400<=balance<92500) {lotsize= 9.24;}
If (92500<=balance<92600) {lotsize= 9.25;}
If (92600<=balance<92700) {lotsize= 9.26;}
If (92700<=balance<92800) {lotsize= 9.27;}
If (92800<=balance<92900) {lotsize= 9.28;}
If (92900<=balance<93000) {lotsize= 9.29;}
If (93000<=balance<93100) {lotsize= 9.30;}
If (93100<=balance<93200) {lotsize= 9.31;}
If (93200<=balance<93300) {lotsize= 9.32;}
If (93300<=balance<93400) {lotsize= 9.33;}
If (93400<=balance<93500) {lotsize= 9.34;}
If (93500<=balance<93600) {lotsize= 9.35;}
If (93600<=balance<93700) {lotsize= 9.36;}
If (93700<=balance<93800) {lotsize= 9.37;}
If (93800<=balance<93900) {lotsize= 9.38;}
If (93900<=balance<94000) {lotsize= 9.39;}
If (94000<=balance<94100) {lotsize= 9.40;}
If (94100<=balance<94200) {lotsize= 9.41;}
If (94200<=balance<94300) {lotsize= 9.42;}
If (94300<=balance<94400) {lotsize= 9.43;}
If (94400<=balance<94500) {lotsize= 9.44;}
If (94500<=balance<94600) {lotsize= 9.45;}
If (94600<=balance<94700) {lotsize= 9.46;}
If (94700<=balance<94800) {lotsize= 9.47;}
If (94800<=balance<94900) {lotsize= 9.48;}
If (94900<=balance<95000) {lotsize= 9.49;}
If (95000<=balance<95100) {lotsize= 9.50;}
If (95100<=balance<95200) {lotsize= 9.51;}
If (95200<=balance<95300) {lotsize= 9.52;}
If (95300<=balance<95400) {lotsize= 9.53;}
If (95400<=balance<95500) {lotsize= 9.54;}
If (95500<=balance<95600) {lotsize= 9.55;}
If (95600<=balance<95700) {lotsize= 9.56;}
If (95700<=balance<95800) {lotsize= 9.57;}
If (95800<=balance<95900) {lotsize= 9.58;}
If (95900<=balance<96000) {lotsize= 9.59;}
If (96000<=balance<96100) {lotsize= 9.60;}
If (96100<=balance<96200) {lotsize= 9.61;}
If (96200<=balance<96300) {lotsize= 9.62;}
If (96300<=balance<96400) {lotsize= 9.63;}
If (96400<=balance<96500) {lotsize= 9.64;}
If (96500<=balance<96600) {lotsize= 9.65;}
If (96600<=balance<96700) {lotsize= 9.66;}
If (96700<=balance<96800) {lotsize= 9.67;}
If (96800<=balance<96900) {lotsize= 9.68;}
If (96900<=balance<97000) {lotsize= 9.69;}
If (97000<=balance<97100) {lotsize= 9.70;}
If (97100<=balance<97200) {lotsize= 9.71;}
If (97200<=balance<97300) {lotsize= 9.72;}
If (97300<=balance<97400) {lotsize= 9.73;}
If (97400<=balance<97500) {lotsize= 9.74;}
If (97500<=balance<97600) {lotsize= 9.75;}
If (97600<=balance<97700) {lotsize= 9.76;}
If (97700<=balance<97800) {lotsize= 9.77;}
If (97800<=balance<97900) {lotsize= 9.78;}
If (97900<=balance<98000) {lotsize= 9.79;}
If (98000<=balance<98100) {lotsize= 9.80;}
If (98100<=balance<98200) {lotsize= 9.81;}
If (98200<=balance<98300) {lotsize= 9.82;}
If (98300<=balance<98400) {lotsize= 9.83;}
If (98400<=balance<98500) {lotsize= 9.84;}
If (98500<=balance<98600) {lotsize= 9.85;}
If (98600<=balance<98700) {lotsize= 9.86;}
If (98700<=balance<98800) {lotsize= 9.87;}
If (98800<=balance<98900) {lotsize= 9.88;}
If (98900<=balance<99000) {lotsize= 9.89;}
If (99000<=balance<99100) {lotsize= 9.90;}
If (99100<=balance<99200) {lotsize= 9.91;}
If (99200<=balance<99300) {lotsize= 9.92;}
If (99300<=balance<99400) {lotsize= 9.93;}
If (99400<=balance<99500) {lotsize= 9.94;}
If (99500<=balance<99600) {lotsize= 9.95;}
If (99600<=balance<99700) {lotsize= 9.96;}
If (99700<=balance<99800) {lotsize= 9.97;}
If (99800<=balance<99900) {lotsize= 9.98;}
If (99900<=balance<100000) {lotsize= 9.99;}
If (100000<=balance) {lotsize= 10.00;}